WELCOME TO ST THOMAS' NEWHEY
TOP PRESS NEWS:- PLEASE NOTE SERVICE TIME CHANGES.
FROM 5th MARCH OUR MORNING SERVICE WILL START AT 10.30am
Tel 01706 290642
2017 CALENDAR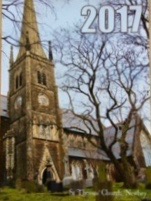 LIMITED EDITION OF ONLY 50
2017 Calendars at £7 prepared by Stuart Roberts are now available from church.
Wonderful pictures of St Thomas' & Newhey.
If you have any enquiries or information you wish to have placed on this site please contact us at: johnsteelsmith@btinternet.com
The headings in the Banner at the top of the page are to help guide you through our site. Please take a few moments and delve into these pages.
This site replaces our old one at http://www.newheychurch.org.uk/